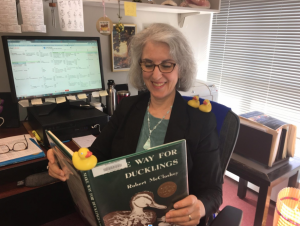 In this interview, you will hear from Ellen Meyers, Assistant Supervisor of Public Services for Programs and Communications at the Newton Free Library. The Newton Free Library offers between 8-15 programs each day! Ellen will fill you in about how the library's programs are mission-focused, community-driven, and thoughtfully-planned.
How does your library's mission guide development of your program offerings?
Ellen Meyers: Our mission statement reads as follows, "The Newton Free Library brings the community together to enjoy, explore, create, and discover." Keeping that in mind, we strive to provide a broad range of programs for patrons of all ages. Here are some examples of program offerings that dovetail with our mission statement:
Enjoy: Our Sunday concert series is a good example of programs that provide enjoyable, free entertainment for the public. Professional musicians (many of whom perform with notable groups such as the Boston Symphony Orchestra) perform free concerts each week from September-June.  Additionally, our Youth Services department offers many enjoyable programs for kids of all ages including Family Fun Friday, Sensory Play Storytime and Matt Heaton Family Singalong.
Explore: One of our Reference Librarians, (a.k.a. our Resident Genealogist) offers a variety of genealogy-based programs including the monthly Genealogy Club where attendees explore their family roots through basic and, in time, more advanced research.
Create: Our Makerspace opened about a year ago and since then patrons of all ages have had countless opportunities to explore new concepts and express themselves in creative ways. Our Making Makers program introduces folks to the Makerspace and allows them to check out our resources. This month our Teens will learn about 3D printing at one of the many programs we offer. 
Discover: Libraries are all about discovery! We have two art galleries that rotate each month where visitors can view a broad range of unique works and perhaps discover a new favorite artist. Youth Services programs such as Little Lab Coats and The Write Stuff help kids figure out about the world around them and also themselves. 
Through our award-winning ELL and Literacy program tutors and learners form meaningful bonds and have enriching experiences in one-on-one tutoring sessions. Volunteers discover what it means to interact with new Americans in the many classes/workshops they lead. Overall the program reinforces the idea that all are welcome at the library.
Please tell us about how the community is engaged in developing and offering programs.
Ellen Meyers: Ten years ago I reached out to Newton's two public high schools with the idea of creating an art gallery in our Teen Area. The gallery is a stellar example of how the Newton community supports this popular library program. Currently five entities are involved.  
Both High Schools enthusiastically engage students in creating art for the gallery. 

Each fall, when we hold an opening for the new show, the music departments take turns sending over student musicians to perform live chamber music. 

When approached by the library,

Abraxis Framing

in Auburndale (one of Newton's villages), wholeheartedly agreed to provide frames for the kid's work cost free. 

Our two main arts organizations,

Newton Art Association

and

Newton Camera Club

, assist with hanging the shows. 

Whole Foods has historically provided refreshments for the openings.  
We also have close to 20 active clubs and groups that meet here monthly; most are led by community volunteers who facilitate unique sessions such as: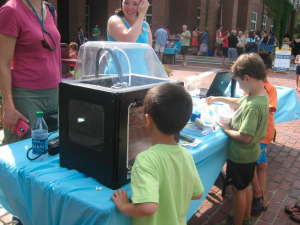 With such a robust calendar of diverse programming, what approaches do you use to keep program planning and communications organized?
Ellen: Regarding program planning, eight staff members plan programs for various segments of our patron population. Each staff member is responsible for generating a press release (or press releases) for the constituents they serve including:
Adults/Art Galleries/Clubs and Groups/Rotating Displays (these programs are led by outside presenters)

Children (led by staff and outside presenters)

Computer Lab and Tech Workshops (usually led by staff) 

ELL classes and workshops (led by volunteers with the Literacy Coordinator providing tutor training and development)

Makerspace programs (led by staff, volunteers and some outside presenters)

Movies (per our agreement with Movie Licensing USA

®)

Teen/Tween (led by library staff, volunteers and outside presenters)

Outside renters and city use of our building (these events are not publicized)
Staying organized can be a daunting task when it comes to collecting information for the monthly press cycle. Over time I've developed a system that makes use of firm due dates, spread sheets and check lists. We have a well-established publicity plan that includes, among other things:
Printed matter (press releases, program posters for the Main Hall display and our newsletter)

Postings on our website via our Events calendar and press page

Postings on several external online calendars (Eventbrite, Boston.com, NewtonArtsCalendar, Boston Parent's Paper and ArtsBoston postings are done by a volunteer)

Social media (including a weekly eNewsletter)

Program cosponsors from the community who help us get the word out. 
Three of the key tools I've developed are:
Monthly spreadsheet for collecting information from outside presenters, library colleagues and community volunteers (such as leaders of our clubs and groups) – see sample
An accompanying checklist to assure we hit all the marks in getting the information out to the public – see sample
Monthly Events Summary which provides the press with a chronological snapshot of a month's worth of events (very brief write ups with the pertinent information including program title, day of the week, date, time, location and description) – see sample
Keeping track of use of our building is another task that requires management tools. We have 10 spaces/rooms where programs are held. As the manager of our calendar I directly oversee room bookings for 6 of those spaces. The rest are managed by individual staff such at the Teen Librarian for the Teen Area, Youth Services for the Storytime Room and Maker Librarian for the Makerspace. We use our online calendar (LibCal) to book spaces only after clearing availability with the person who is responsible for the space in question. We have a very detailed spread sheet that lists all known, regular use of our spaces since many of our programs repeat weekly or monthly. The spreadsheet gives me an "at a glance" picture of room availability which I then check against my personal pending requests list. Requests for room use are approved after this detailed review process is completed.  
What community partners have been the most valuable contributors to develop and support programs at the Newton Free Library?
Ellen: Newton has very highly-educated, well-informed residents who LOVE their library! Our city government leaders encourage inter-departmental collaboration. The library has been at the forefront in developing community partnerships for programming including, and not limited to:
Historic Newton (Newton History Series – 3 programs per season)

Department of Senior Services (Living and Aging in Newton Series – 3 programs per season)

Public Health Department (ongoing occasional program partnerships)

Green Newton (our local environmental group – 6 programs per season)

Good Shepherd Community Care (a local hospice organization – 2 programs per season)

Poetry Series (led by a volunteer – 6 programs per season)

SCORE (The nation's largest network of volunteer, expert business mentors – approximately 9 programs per season and 7 ongoing monthly one-on-one mentoring sessions)

AARP Tax Aide Foundation

™

(volunteer-run tax preparation and assistance service – weekly from mid-Feb through the end of the tax season)
We often reach out to others such as the Newton Human Rights Commission and some of the entities listed above to invite them to cosponsor programs. By cosponsoring they agree to help get the word out through their channels and also to have a representative of their organization present at the actual program to field questions as need be. 
Any lessons learned or other thoughts you would like to share?
It is critical to cultivate positive relationships with the press – locally and statewide as you are able (ie the Boston Globe). Providing them tools such as the monthly Events Summary makes their job easier, shows a level of respect and collegial support, and can also increase the amount of coverage you will get.
The position I hold at the Newton Free Library is one of great responsibility in service to this community. It is helpful that I live in Newton – I keep abreast of local issues which can drive program planning that will be of value to our citizens. It is my obligation to maintain a balanced approach in planning programs. That said, it is important to have the confidence to select topics that, while potentially difficult to face (social injustice, racism, climate change and the like), can spark productive dialogue with the intention of promoting positive outcomes for our society in general. 
It is my pleasure to be able to meet and work with intelligent colleagues and talented, knowledgeable presenters. For all the challenges of keeping things straight, when a program meets with success and patrons express their gratitude, enjoyment or mention that their lives were changed by having heard a particular speaker, I am confident that my work is serving the public well and upholding the library's mission. 
Interview with Ellen Meyers, Assistant Supervisor of Public Services for Programs & Communications, Newton Free Library
Interviews by Michelle Eberle, MLS Consultant