On November 15th, 2019, the Massachusetts Board of Library Commissioners and the Massachusetts Library System co-hosted the Symposium, Communities in Crisis:  Libraries Respond to the Opioid Epidemic, at the Devens Common Center.  The Symposium was attended by 134 participants including 20 exhibitors from organizations such as the Massachusetts Department of Public Health, Recovery Centers of America, and Mental Health First Aid.  The presenters covered a range of topics including the neurobiological basis of addiction, stigma, workplace safety, and self-care.  Morning presenters included Dr. Scott Lukas (McLean Hospital), Felice Freyer  (Boston Globe), Jodi Sugerman-Brozan (Mass COSH), and April Berry-Fletcher (MSW). At lunch time, Marian Ryan, the Middlesex County District Attorney, presented a briefing.  The afternoon included 7 five-minute Ignite Talks by librarians and a moderated discussion of actionable next steps for librarians to respond to the opioid epidemic.
In the Symposium evaluation, 90% of participants reported that they felt more confident about becoming involved to respond to the opioid epidemic.  75% of participants reported that they intend on engaging in a community partnership to respond to the opioid epidemic. Attendees said what they liked most about the Symposium was the variety of speakers and their breadth of knowledge.  Participants also reported enjoying the information tables and opportunity to connect with exhibitors.  The Ignite Talks were a highlight of the day and received many kudos in the evaluation.  When asked  in the evaluation "What can the MBLC and MLS do to better assist you?" many participants requested that MBLC and MLS "keep holding programs like this, which address issues and problems in society as they relate to libraries."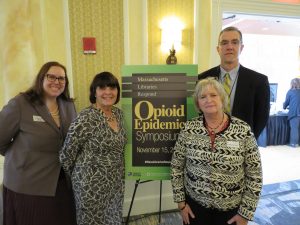 Participants shared that following the Symposium they planned to build community partnerships, expand collections, offer staff trainings on as Mental Health First Aid and self-care, report what they learned to colleagues and town committees, update emergency procedures, provide Narcan training for staff, debrief after library incidents, and create a buddy system for library staff.  The Massachusetts Library System and the Massachusetts Board of Library Commissioners are thrilled to learn of the many ways Symposium attendees plan to be prepared and respond to the opioid epidemic.
The presentations and the results of the moderated discussion are available on the Symposium Resource Guide.  Symposium attendees are invited to apply for Social Infrastructure Mini-Grants funded by LSTA funds through the MBLC.   The MLS and MBLC look forward to continuing to support the professional development of our members.
-Symposium Co-Hosts, Michelle Eberle (MLS) & Shelley Quezada (MBLC)