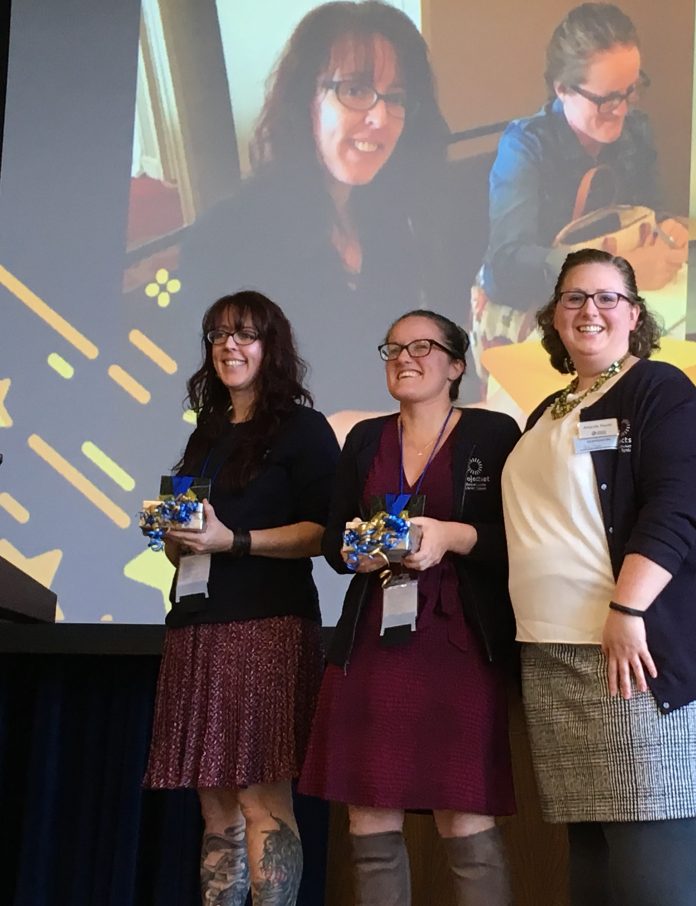 This year at the Mass. Library System's Annual Meeting on Monday November 4th, 2019 we recognized two individuals who have demonstrated an exceptional commitment to the Massachusetts Library community-
Erica Street, the Assistant Director at the Jenks Library at Gordon College
Mikaela Wolfe, the Assistant Director at the Sharon Public Library
Since 2010, the Massachusetts Library System has endeavored to support a state-wide library community through our continuing education, consulting, and resource sharing efforts. We believe that our members benefit from sharing their personal knowledge, skills, and resources. This collaboration benefits those who live, work, and study in Massachusetts. Since its initial establishment in 2014 the Stronger Together Award has been used by our organization to recognize members of the library community who have voluntarily contributed their time, knowledge, and skills in support of the mission of the Massachusetts Library System. The Stronger Together Award recognizes individuals or libraries who in the past year have both championed the mission of the Massachusetts Library System and contributed to the enhancement of our services.
Miki and Erica were recognized for their extraordinary contributions to our learning cohort "Project SET: Skills, Empowerment, and Talent". In 2018 Miki and Erica joined our Project SET team as Alumni volunteers. Their initial participation in the planning and implementation of the program was an experiment and the outcomes have far exceeded our original expectations.
Together Miki and Erica brought our marketing efforts to a new level by redesigning the Project SET logo, creating a style guide for branding, and creating additional materials.  They also worked with MLS staff to design and instruct trainings for our SET cohorts, they led group discussions, and provided mentoring to program participants.
The Massachusetts Library System would also like acknowledge the Sharon Public Library and the Jenks Library at Gordon College for supporting our efforts. The Project SET Alumni program has been MLS's most ambitious attempt to foster a "Co-Creator" community. We are so grateful for their support in this endeavor. We thank the Director of Sharon Public Library, Lee Ann Amend and the Director of the Jenks Library, Myron Schirer-Suter for the support they provided to this program and to their staff members.