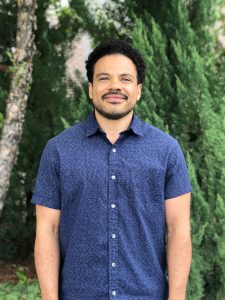 As part of the 2019 Project SET Cohort, Joel Newsome, Mobile Services Librarian at the Worcester Public Library, is exploring library trends and connecting with colleagues outside of their library. On November 4, each member of the 2019 Project SET Cohort will give a five minute presentation at the MLS Annual Meeting.
For his presentation, Joel will be advocating for more outreach services across the Commonwealth. He would love to see more Massachusetts libraries develop focused outreach efforts and see more libraries establish departments devoted exclusively to outreach. More bookmobiles on the road would be great too!
Library professionals should be excited about outreach because it increases traffic at area branches, addresses gaps in service and supports the most marginalized populations in accessing library services. Outreach is also really fun! It's a great way to learn about and engage with your community. 
Worcester Public Library serves the second most populous city in New England. In addition to the seven branch locations, the library has offered intermittent bookmobile services since 1940. The Mobile Services department offers Worcester's residents a dynamic avenue for accessing library services on one of two ADA compliant vehicles, allowing access to patrons with a range of abilities. Worcester's bookmobiles can be found at over 70 scheduled stops including  elementary schools, senior living facilities, afterschool programs and housing locations. In addition to the services rendered at scheduled stops, the playfully decorated bookmobiles provide a sense of community to the streets of Worcester and are often invited to special events.
As a Mobile Services librarian in a mid-sized city, I am most excited about the possibilities of urban outreach, specifically to under-served populations. At Worcester we have been engaging in Interdepartmental outreach efforts as a means of bridging service gaps and addressing community needs. On any given day I could be working with colleague(s) from our Talking Books department, Circulation, or even Technical Processing. This interdepartmental collaboration helps the public to feel more comfortable with interacting with various departments and fosters a sense of community among staff and patrons as well. 
Joel's interest in Project SET stemmed from connecting with fellow colleagues at WPL who had also completed the program. In addition to presentation experience, Project SET equipped them with knowledge of trends and initiatives specific to Massachusetts that seemed invaluable to improving and building upon everyday service.
We hope to see you on November 4th at our Annual Meeting, to be held at the Hogan Center at the College of the Holy Cross in Worcester, MA. To learn more about Project SET? Visit our LibGuide!