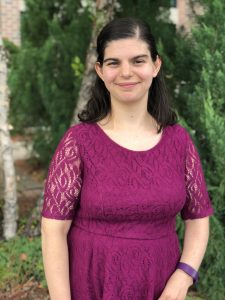 As part of the 2019 Project SET Cohort, Nicole Cunha, Public Services Librarian at the Newton Free Public Library, is exploring library trends and connecting with colleagues outside of their library. On November 4, each member of the 2019 Project SET Cohort will give a five minute presentation at the MLS Annual Meeting.
For their presentation, Nicole will be discussing the importance of disabled librarian representation within the library profession. Library professionals should be excited about this topic because libraries were the first place disabled communities could feel safe, and SEEN. 
After their presentation, Nicole wants to see LIS professionals ask themselves several questions-
1) Do I understand what it's like to have a disability? 
2) What can I do to support the people in my community? 
3) How does disability impact someone's role as a librarian?  
Nicole would like to change the way Massachusetts libraries view disability, its representation, and its value within the profession. 
Libraries and disability communities have a shared history that we need to explore if we're going to fix this issue. The profession needs to reconsider if they are truly serving this community, even their patrons AND staff.
The Newton Free Library now has only one branch,  though as late as the 1980s Newton operated 10 neighborhood branches. The Auburndale branch (one of these original branches) remains an active community-run library where the Friends of the Library hold annual book sales and use the location as a hub for donations. It is believed that Newton is the busiest single library location in the state, serving the local community, the Minuteman network libraries, and communities across the state. 
Nicole loves working with patrons of all ages. The new teen and tween space in Newton is currently a major draw for visitors and one of Nicole's favorite parts of the library. The brightly colored furniture, bean bags, and periodic anime or movie viewings have created a welcoming space that has appealed to both Newton's teen and adult patrons.
Nicole decided to apply to participate in Project SET in response to a lack of discussion and representation of disabled librarians in the wider LIS field. Of the libraries Nicole has worked at, Newton stands as the most ability-diverse staff (neurologically, physically, etc). Part of why Nicole applied to SET stems from a desire to prove to the profession that disabled librarians can contribute more to the field than is believed. Nicole wants to start a conversation with other Massachusetts libraries around disability-consciousness and to bring disability to the forefront of people's minds in order to serve those on both sides of the desk.
Within our educational programs and workplaces, we often encounter gender and ethnicity-focused diversity conversations…but disability remains on the sidelines. A disability identity* interweaves with all others, (socioeconomic status, gender, race, sexuality, religion, etc), so inter-sectional considerations within diversity need more air time.
Nicole has always wanted to help people. In their role as a librarian they are a teacher, facilitator, and student. The people who come through the library doors teach Nicole as much as they do for them. Making a connection and finding ways to expand someone's mind reminds Nicole that they've done their job. The fact that Nicole is open with their disabled experience has: served as a path to learn more about the libraries patrons and their families; given voice to unanswered questions; and prompted longer discussion or resource sharing, reminding Nicole that they are there to expand someone's thinking.
*When I talk about disability identity, I am including those who have what society sees as disabilities or impairments. Individuals may not self-identify as in having a disability, or consider their experience as anything but normal.
We hope to see you on November 4th at our Annual Meeting, to be held at the Hogan Center at the College of the Holy Cross in Worcester, MA. Registration is now open on our calendar. To learn more about Project SET? Visit our LibGuide!