Would you like to hear an inspirational and uplifting story? In this interview, you will hear from Anna Bognolo, Library Director at the Eaglebrook School in Deerfield, Massachusetts.  Anna coordinated a civic engagement partnership with Books through Bars, a nonprofit in Turners Falls that receives donations of books to send to prisoners throughout the country. This partnership was an eye-opening experience that gave the students the opportunity to talk about the criminal justice system and also access to books and information for lifelong learning and self-improvement. Read on to hear from Anna.
What inspired you to partner with Books through Bars?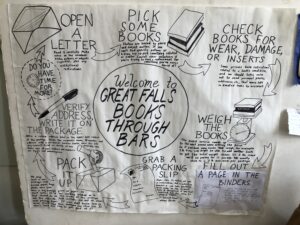 Anna Bognolo:  The junior boarding school where I work offers our final year students (ninth graders) the opportunity to be part of a "leadership" committee where they can gain experience working on community-based projects. I coordinate the Library Committee which promotes books/reading and access to information. I am always looking for projects and learning opportunities that meet the committee's mission, both on our campus as well as in the greater community of Franklin County. A few summers ago, while having breakfast at one of my local favorite restaurants in Greenfield (unfortunately since closed), I noticed a book donation box for an organization called Great Falls Books Through Bars. I was curious about the organization, looked them up online and learned about their mission and volunteer opportunities. I remember thinking what a great opportunity it would be for my students to partner with this organization, for the hands-on experience as well as an introduction to the use of literature for self-education and mass incarceration in the United States.
What was involved with the partnership?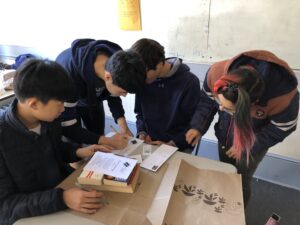 Anna Bognolo: Working with Great Falls Books Through Bars is very straightforward. The organization has an established volunteer day – the second Saturday of each month – and folks are invited to drop in during their opening hours. (Schools or large groups of volunteers are asked to schedule their visit ahead of time since there is a limited amount of space at the organization's HQ). The volunteer work consists of reading book request letters from incarcerated individuals; matching as closely as possible book requests to what the organization has on its shelves; writing a response letter to the incarcerated individual; preparing the book(s) for mailing. For our first scheduled visit, I arranged an on-site meeting with the group's coordinators and asked them to share with the students details about the organization. Their presentation was very informative, offered the students the opportunity to ask questions about mass incarceration and how the organization is funded and walked them through the process of the work to be done. (Fortunately, flowcharts are also located in the different rooms where folks set themselves up to process the book requests.) My students were also able to present the coordinators with a variety of donations: books, office supplies (paper bags and packing tape) and a monetary donation to help off-set postage costs. The organization welcomes all of these donations, whether or not you participate in a volunteer day.
How did the students respond to the partnership with Books through Bars?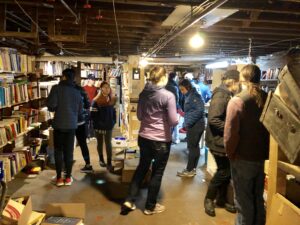 Anna: For many of my students, this was their first "encounter" volunteering for a grassroots organization and, more importantly, doing something for people who are behind bars. Some of my students felt very uncomfortable with this because it asked them to think about societal issues that are not particularly pleasant and can be quite controversial. Others found the work to be really interesting, eye-opening and challenging — finding a book that matched what the author of the letter was asking for really called on their knowledge of literature (think readers advisory!)! And others were made to think about what it would be like to not have access to books or the opportunity to be able to learn something new through reading. Overall, whether comfortable or not, they all left having learned something new.
How did the partnership benefit the students, library, and school?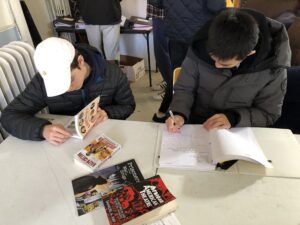 Anna: The students got a chance to fundraise for a local non-profit and, witness how important books/literature can be to people from all walks of life, and have an opportunity to connect with someone outside of their community and in a very different situation from their own. The library (and the school) benefitted from the opportunity to build a relationship with a local organization that recognizes that books can open doors. We are also happy to be able to share with the organization books that we have in excess in our collection.
How might you continue this important work during the pandemic?
Anna: While Great Falls Books Through Bars is still welcoming donations and volunteers, my students are not allowed to participate in activities outside of our campus. Thus, for the 2020-'21 school year, our plan is to focus on book donations and fundraising that will help with the purchase of office materials and postage.
Any other thoughts you would like to share?
Anna: I highly recommend volunteering for Great Falls Books Through Bars to anyone living in Franklin County especially since there are so many different ways to give to this organization. For those outside of Franklin County but interested in Books to Prisoners programs, link here for a list by area/region.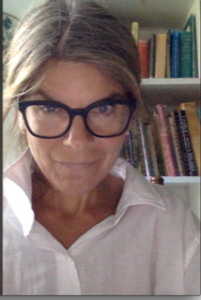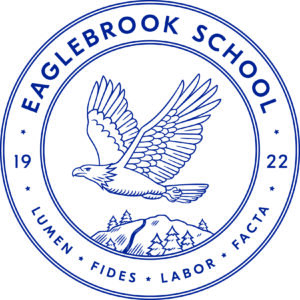 Interview with Anna Bognolo, Library Director, Eaglebrook Middle School Library
Interviewed by Michelle Eberle, Consultant, Massachusetts Library System
This is the second post in a series of interviews featuring civic engagement activities at libraries across the Commonwealth of Massachusetts.