This is the finale of a series of five interviews featuring civic engagement activities at libraries in Massachusetts.  In this interview, you will hear from Clayton Cheever, Assistant Director at the Thomas Crane Public Library in Quincy.  He will tell you an inspiring story about the library's partnership with March Forward Quincy and Quincy for Transformative Change.  Read on to hear from Clayton.
What inspired you to host your community conversation? 
Clayton Cheever: Our library has four service priorities: inspire curiosity, spark imagination, connect to the online world, and foster community. We have been exploring different ways to foster community, which we've found especially challenging during this pandemic. We've hosted lots of educational and cultural programs, but getting people to engage with each other in a meaningful way requires a different approach.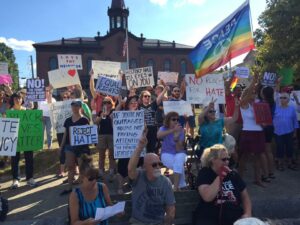 Back in 2017, a group of local activists participated in the Women's March on the day after 45's inauguration. Some went to DC, others went into Boston, and when they returned to Quincy they were fired up to do more. They met first in our meeting room to explore options. After a couple of meetings, March Forward Quincy was formed (and it started meeting elsewhere). Their mission is to encourage local engagement to increase civic interest locally and nationally, and engage our community to nurture empathy. March Forward Quincy strives to fulfill this mission by providing information on political issues, highlighting means of action and engagement, and sponsoring events to connect to and unite our community. They are non-partisan. 
During the last two election cycles when we had local candidates running for City Council March Forward Quincy and the Thomas Crane Public Library collaborated to host programs of moderated conversations with all the candidates for the at-large seats. This last summer, members of March Forward Quincy were marching in the streets for Black Lives Matter and starting talking about forming a book group to deepen the level of community discourse around important issues, starting with BLM! They approached me and we started talking about what this could look like.
We at TCPL are transitioning from actively supporting book groups to focusing staff efforts on programs that can benefit greater numbers of individuals. I steered the conversation with March Forward Quincy towards conversations grounded in literature and other intellectual expressions (movies, TED talks, magazine articles, podcasts, etc.) We decided it would be most meaningful to partner with different community organizations who will lead each conversation around topics they are actively working to address. 
Who were your project partners?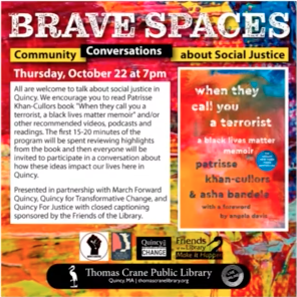 Clayton Cheever: The first Community Conversation happened this fall (watch it on YouTube, if you like). It was facilitated by March Forward Quincy and two people from Quincy for Transformative Change and Quincy For Justice, the organizations that were organizing the local BLM! demonstrations (and much more). The Library and March Forward Quincy are working with lots of other community organizations to plan future conversations. Some of the topics we are working on include Being Asian in Quincy (we have the largest percentage of Asian community members of any community in the Commonwealth), Mental Health and Addiction Challenges, Domestic Violence Prevention and Protection, Housing Instability, LGBTQIA+, and more.
How did having a brave space versus a safe space facilitate more meaningful conversation?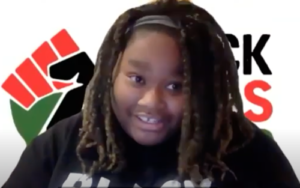 Clayton: Tiffany from Quincy for Justice really says it best. You can watch her curate a Brave Space in our first conversation here. Basically Brave Spaces are safe spaces for everyone. In a safe space people can speak freely – but often that makes historically marginalized people including BIPOC NOT feel safe. In a Brave Space, everything said is understood to be a first draft. If someone takes issue with something said, they have a responsibility to bravely confront the speaker and then provide the speaker with an opportunity to amend their communication. We spent some time talking about this idea and then asked the people gathered to further define what a brave space would mean to them. 
How might you continue this important work during the pandemic? 
The election cycle and continuing pandemic this fall have certainly impacted our work and things have slowed down a little. We know that the issues that everyone involved feels passionately about were not created overnight. They have been developing for many hundreds of years. We are intentionally pacing ourselves and taking the time we need to develop relationships and plan future community conversations. This means a lot of Zoom conversations. We are intentionally keeping the core group small, as the more people we include, the harder it is to find time for all of us to get together. However, some of the issues we want to address include many different actors within the community, so this is a constant challenge.
Any other thoughts you would like to share? 
The most important part is making those community connections and really listening to the people who are engaged at the grassroots level. We intentionally decided to only partner with organizations, not lone individuals (or politicians). Our first conversation was focused around the book When They Call You a Terrorist: A Black Lives Matter Memoir by Patrisse Khan-Cullors and Asha Bandele. The first ~20 minutes of the program was spent reviewing highlights from the book and then everyone was invited to participate in a conversation about how these ideas impact our lives here in Quincy. We recommended reading the book, while communicated we understood that many may prefer other learning experiences. We also recommended people consider the following resources as alternatives or in addition to the book while making it clear people could read, listen or watch any, all or none of these and still participate in the conversation.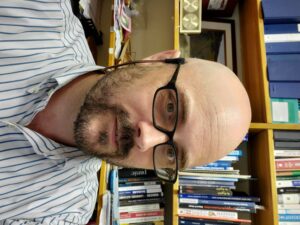 Interview with Clayton Cheever, Assistant Director, Thomas Crane Public Library, Quincy
Interviewed by Michelle Eberle, Consultant, Massachusetts Library System