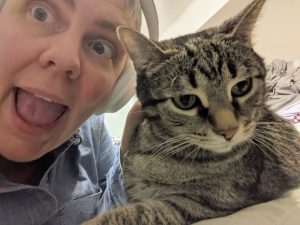 I've been working from home exclusively since March 2020, so my typical work day is spent on a laptop, with plenty of human interaction via Zoom and Teams. Sometimes my in-house co-worker — Football Cat — keeps me company by napping on the couch. 
I was an academic reference and information literacy librarian before coming to MLS, and I enjoy working with libraries of all types on issues related to information literacy. In fact, my colleague Christi Farrar and I have a program about disinformation coming up later this fall. I also have a lot of knowledge about copyright, plagiarism, and intellectual property, which I am always happy to talk about. Additional interests include instructional design and technology, assessment, and career information and services. Recently, I have been learning more about accessibility, and I look forward to opportunities to share that information with members.
Along with my colleague Michelle Eberle, I co-edit the MLS COVID-19 Resource Guide. We are now working on figuring out a long-term plan for some of the information we have gathered. I have also partnered with Kristi Chadwick to transition the BLT courses to a blended learning model over the past several years, and currently we are working on moving them into a new learning management system.
Outside the office Kelly enjoys…
I'm reading Rememberings, a memoir by Sinead O'Connor (also known as Shuhada Sadaqat). I just started it, so I don't have a review yet, but she's an excellent storyteller. In fact, the Irish Sunday Independent hired her to do a column after they read it. I'm a big fan of her music and her boldness, and I'm excited to see her branch out into new creative directions.
During the pandemic, I've really enjoyed watching the live stream of the brown bears fishing for salmon at Brooks Falls in Katmai National Park, Alaska. I'm also looking forward to Fat Bear Week at the end of September, when you can vote for the bear who has done the best job bulking up for the hibernation season ahead! I'd love to visit Katmai in person someday to do some hiking and watch the bears at the falls (from the safety of the viewing platform, of course). In the meantime, I'll make do with the Bear Cam.
Contact MLS Consultant Kelly at kelly@masslibsystem.org 
Get to know our team! Check out more of our Meet the MLS Team profiles.