Is your library interested in contributing to improving the health of your community?  Would you like to learn about National Library of Medicine resources?  Looking for funding for health information outreach, technology improvement, or data management?  If yes, then read on to hear from Jessica Kilham, Associate Director of the Network of the National Library of Medicine (NNLM) Region 7 about everything you need to know about health information resources, funding, and training available from the NNLM.

What's new at the Network of the National Library of Medicine?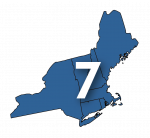 Jessica Kilham: The Network of the National Library of Medicine began a new contract in May 2021 that will run through April 2026. In this contract, we saw the regional map reconfigured to support seven Regional Medical Libraries (RML). The RMLs were also renamed—the New England Region (NER) is now Region 7. The Lamar Soutter Library at UMASS Chan Medical School was selected to host Region 7 and we serve Connecticut, Maine, Massachusetts, New Hampshire, New York Rhode Island, and Vermont. Region 7 provides outreach, education and training programs and supports the needs across the geographic region. Over the last couple of months, NNLM has updated its website and Region 7 has added an Informational Guide to share specific projects and initiatives in our region.
Please tell us about the NNLM's strategic priorities for the new contract.
Jessica Kilham: NNLM uses a combination of national and regional initiatives that help shape our program. This allows us to act local while also supporting the overarching national program. On a national level, the proposed initiatives are 1) Confronting Health Misinformation, 2) Bridging the Digital Divide, and 3) Recognizing Environmental Determinants of Health.  In addition to our national initiatives, our regional initiatives include 1) Health Information Outreach in Languages Other than English, 2) Substance Use Disorder, 3) Graphic Medicine, and 4) Climate as it Relates to Health. These initiatives also us to address unique needs locally while also addressing needs at a national level.
 What funding opportunities are available to libraries in Massachusetts?
Jessica: NNLM Region 7 provides funding opportunities to libraries, community and faith-based organizations across the region- including Massachusetts. Our funding announcements will be posted in mid-January 2022. We will have three award types—Health Information Outreach (up to $20,000), Technology Improvement (up to $10,000) and Data Management (up to $15,000). Funding announcements will be posted on our website and through our newsletter.
If you are interested in applying for an award, reach out and connect with our office! We are here to answer your questions and address any concerns. We have resources available to help you write a successful proposal.
 What's the best way for library workers to stay up-to-date on what's available from the NNLM related to funding, training, and National Library of Medicine resource updates?
Subscribe to the NNLM Region 7 Newsletter! It is a weekly newsletter that includes upcoming trainings, announcements about funding opportunities and an article about relevant resources or member highlights. It is the best way to stay in the know!
Any upcoming changes to National Library of Medicine resources or new professional development opportunities that you would like to highlight?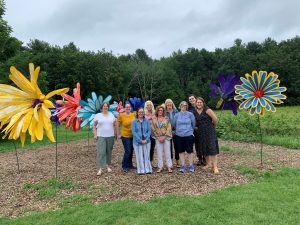 One of the pillars of NNLM is to develop free relevant trainings and educational programming to support professional development. The National Training Office (NTO) continues to develop courses that are offered both on demand or through live training. Topics vary from refreshers on resources like MedlinePlus to Wellness in the Workplace to Health Reference. The full list of courses are available: https://nnlm.gov/training/schedule. Many of the trainings qualify for continuing education credits that support specialization credentials such as CHIS, DSS and more. You can also catch up on previously offered trainings through the NNLM YouTube Channel.
Another cool professional development opportunity that Region7 offers is through our robust Communities of Interest (COIs). COIs foster emerging roles for partners in dynamic themes for health information. Members of COIs share ideas, knowledge, and experiences to help each other improve their organizations' services. Our COIs provide a platform that brings people together around a specific topic. We currently have COIs for Graphic Medicine, Substance Use Disorder, Hospital Libraries, and Academic Libraries. We encourage you to reach out and get involved with these groups!
Anything else you would like to share?
The major take away from this is to get involved—reach out and connect! We want to hear from you and understand what is happening at your organization. NNLM has free resources, trainings and programs to support you and your organization.
Interview with Jessica Kilham, Associate Director, NNLM Region 7, Lamar Soutter Library, UMass Chan Medical School
Interviewed by Michelle Eberle, Consultant, Massachusetts Library System