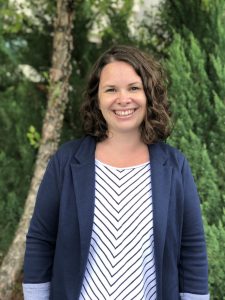 As part of the 2019 Project SET Cohort, Theresa Tangney, Head of Information & Outreach Services at the Thomas Crane Library in Quincy, is exploring library trends and connecting with colleagues outside of her library. On November 4, each of the 11 members of the Project SET Cohort will give a five minute presentation at the MLS Annual Meeting. 
For her presentation, Theresa will be investigating how to serve and reach Quincy's Asian population through outreach, partnerships, and in-library programming. The Thomas Crane Library is an urban library and the city of Quincy predicts that the population will hit over 100,000 on the 2020 census. Currently over 24% of the population is Asian. Theresa hopes her presentation will help library leaders think about the ways they can serve all types of under served populations in their communities and find creative ways to open up the lines of communication with potential partner organizations.
"Trying to connect with potential patrons who are completely unaware of what the library can offer them is something that I find professionally invigorating, and applicable to libraries across the state. I'm also excited about community-based programming that helps people meet and interact on a more social basis."  
Theresa's favorite part of the library is the original 1882 portion of the building which was designed by H.H. Richardson and now houses the libraries periodicals and newspapers. To maintain the historical feel the library has opted to keep this section relatively free from technology except for a single staff computer. Between the fast pace of working on a busy public service desk, and the indescribable feeling of making a difference in a patron's day (or life!) Theresa still finds purpose working in Quincy after more than 10 years.
Theresa was recently promoted into a management position at Thomas Crane, and her director suggested Project SET as a way to further develop leadership skills and meet other library staff beyond their walls. Theresa was also drawn to SET by the opportunity to hone her presentation skills. Theresa is in a brand new role at Thomas Crane which combines information services with a new outreach initiative. By taking the time to develop her presentation for Project SET she has been able to think about the critical services that the library should be offering to their underserved populations.  
"As we all know, the library as an institution has evolved to be so much more than physical collections.  As we become more of a community center and place to connect culturally and socially, we should all be excited about taking these services beyond our walls and making a widespread impact on the greater community. "
We hope to see you on November 4th at our Annual Meeting, to be held at the Hogan Center at the College of the Holy Cross in Worcester, MA. Registration is now open on our calendar. To learn more about Project SET? Visit our LibGuide!