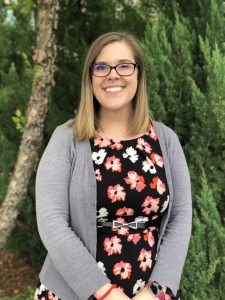 As part of the 2019 Project SET Cohort, Carlina Arsenault, Library Assistant in Children's Services at Northborough Free Library, is exploring library trends and connecting with colleagues outside of her library. On November 4, each of the 11 members of the Project SET Cohort will give a five minute presentation at the MLS Annual Meeting. 
For her presentation, Carlina will be investigating Fandom programming as a tool for engaging Tween Patrons. Often when people hear about tween fandoms or other similar trends, they may feel overwhelmed by these unfamiliar topics. Carlina believes that by reaching out to young people and their families, libraries can better understand and serve the needs of their communities. Carlina would like to see Massachusetts libraries tap into the power of fandom to increase the popularity of their library programs and to better serve a traditionally under-served community. Carlina hopes that more Massachusetts libraries will prioritize their young patrons by offering more programs and services for the late elementary aged demographic. After her presentation Carlina wants library professionals to feel empowered to reach out to young people and learn about their interests. 
"Young patrons are our future adult library supporters and it benefits us all to keep them engaged and invested in the library and the services it offers."
The Northborough Free Library serves a population of 14,000 in addition to a strong patronage from surrounding communities. Founded in 1868 the library recently celebrated their 150th birthday. Northborough has become a fine free library to help encourage access to all. Carlina and the rest of the Children's Room staff in Northborough want the library to be a fun and inviting place for young ones and their caregivers. They have a variety of toys and manipulatives for children to play with and two special reading houses. Carlina's favorite part of the library is the number and variety of programs that they offer including 9 regularly recurring storytimes, 3 regularly recurring book clubs, visits from read dogs, and many other stand alone programs. They strive to offer something for everyone. Carlina's believes inclusion and accessibility should be a top priority for the library community and that it should be kept in mind as they consider all aspects of the library, from space planning, to programming, to resources, and beyond.
"I love to come to work to see all kinds of families and children of all ages enjoying the library."
Carlina was originally interested in Project SET after a recommendation from her supervisor who is a SET Alumni (Katrina Ireland, 2015). Katrina told Carlina about the positive impact her Project SET participation had in her early career and suggested it would be similarly beneficial to Carlina. As someone relatively new to the field of librarianship, Carlina was excited to have an opportunity to develop her leadership and presentation skills. Carlina joined Project SET because she wanted to be able to advocate for the programs she believed should be offered in the library and to discuss trends and issues in the field with colleagues from different backgrounds.
Carlina is passionate about serving her community and making libraries and their resources accessible to people from all walks of life. She is especially passionate about serving young people and their parents. Childhood is an important time for development, not just physically, but also in terms of cognitive and social emotional skills. Carlina loves being able to help children grow and develop, especially by serving late elementary-aged children during a stage in their lives which is filled with change and identity development. She believes it is important for children to have spaces where they feel welcome and safe to develop their sense of self. 
"Often times, young people are told their interests are less valuable or valid than adult interests and I love offering them a place where they can express their passions freely." 
We hope to see you on November 4th at our Annual Meeting, to be held at the Hogan Center at the College of the Holy Cross in Worcester, MA. Registration is now open on our calendar. To learn more about Project SET? Visit our LibGuide!