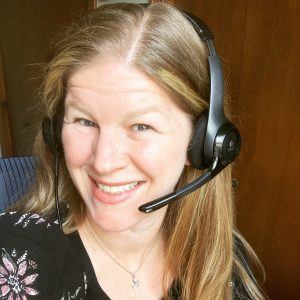 I like to call myself a "librarian's librarian" in that I do for MLS members what they do for their patrons: I help them find resources and answers for their information needs. Most of my time is spent helping library staff solve problems, either virtually or in person. For example, guiding a team through a diversity/equity audit of their collection, sharing ideas about how best to reconfigure a library space, or connecting a library to a trainer or organization. I love helping libraries provide better service for their communities, either through consultations with the staff or continuing education courses.
These days I have a lot going on, which makes every day interesting. I'm currently finalizing the details on Teen Summit, our annual day-long conference for library staff who work with teens. I'm also working with Lyndsay Forbes and Shelley Quezada at the MBLC on a new project called Touchpoints for Libraries which brings the Brazelton Touchpoints Center's child development training principles to library staff members. And I'm also continuing to record and release episodes of the bookish library-world podcast, This Podcast is Overdue, which I co-host with colleague April Mazza. 
Outside the office Christi enjoys….
I'm a big fan of true crime and podcasts (and true crime podcasts), so I'm loving Only Murders in the Building on Hulu. It has a stellar cast, an intriguing mystery, plus a good dose of humor. I've especially loved all the podcast world jokes, like how many people record episodes from inside their closets.
Christi would like to visit…
I would love to go to Japan. I had a chance to spend a month in Hiroshima and Tokyo as an exchange student the summer before 8th grade, and it was a life-changing experience. My oldest child is now a 7th grader and loves all things Japanese, so I think it would be awesome if we could travel to Japan together. We like to plan fantasy vacations with the hope that we'll be able to travel again in the near future.
Contact Christi at christif@masslibsystem.org 
Get to know our team! Check out more of our Meet the MLS Team profiles.