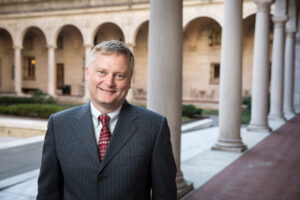 In this interview, we'll hear from David Leonard, President of the Boston Public Library.  David will reflect on how the Boston Public Library shines a light of hope for community resilience during the pandemic, how the library supports vulnerable and underserved populations, and what additional support and resources would be helpful to do this important work.  This interview is part of a blog series highlighting how Massachusetts libraries contribute to community recovery and resilience.
What makes you most proud of your library's response to the COVID pandemic?
David Leonard: I think that "pivot" became the word of the day, for better or worse!
I continue to hear stories from neighbors or members of the public generally – they will literally stop me on the street to tell me things like, "The library saved my life during COVID."
Our data is also showing us that usage of library services exceeded the years prior to the pandemic, and, amazingly, in recent surveys, we've come to realize that many of the people using the library during COVID had not come in to a library in the last four or five years.
All of this happened because of our staff's willingness to pivot – to offer new services and to try to keep doing the things they did in person, even though we couldn't be together.
As we recover from the pandemic, and we're not done with it yet, I think we have a real opportunity to keep – and grow — that engagement and community.
How has the library shined a light of hope during the pandemic? 
David Leonard:  We are a big institution, but it really came down to individual patron experiences, especially through digital engagement.  And for example, working with other City of Boston departments, we created outdoor pop-up centers at branches where patrons could take advantage of our boosted and strengthened WiFi signals – and our WiFi usage numbers climbed through the roof, literally.
During the pandemic, we re-branded our signature programming series as "Repairing America," which featured authentic and meaningful nationally recognized speakers on issues of public health, racial equity, hope and joy, and wellness.
One of the more moving moments of the pandemic was watching an online performance of the ESL choir from the Back Bay Chorale.  It was so striking  — they used the library to stay in touch, to continue learning, and to perform with each other.
Digital Connection was everything for a period, and we became acutely aware that by helping to narrow the digital gap, we were also playing a role as facilitators of community, as well as of individual storytelling, the sharing of lived experience.
Please tell us about how library supports vulnerable and underserved population.
David: The BPL's motto is "Free to All," and our work with underserved and vulnerable populations stems from our unshakable conviction that "All" has to mean "ALL."
Some particular examples include our outreach to incarcerated youth and our work with people who are unhoused, dealing with mental health issues, or struggling with substance abuse.  In addition to having a strong relationship with local shelter and resource Pine Street Inn, we have also just added a social worker to our library staff – she is currently working on a partnership with Simmons University's School of Social Work that has us now certified as a field placement site.  This means we'll be able further strengthen our work in this space by adding social work interns to our portfolio.
What strengths of the library have been most important during COVID-19?
I sometimes joke that the Boston Public Library is a 175-year old startup – and I think it's the fact that we've been improving on our ability and openness to being agile that got us through the pandemic.  Watching our staff's willingness to center the needs of our user population while supporting one another was incredibly inspiring, even at the roughest of times.  I'm especially proud that none of our staff were laid off, furloughed, or even had their hours reduced through the entire pandemic.
What new resources or support would help your library continue to support community recovery and resilience?
The two areas where we think library services will make the biggest difference in society's continued recovery are youth engagement, and workforce development/social services – but the reality is that it's always new or repurposed staff capacity that enables new services to come to life.  The connection between a community and its library is about human connection, and we need to do a better job of recognizing that.  So I'd say that investments can't just be about collections or buildings – they have to be about investing in staff and creation of new staff tools and support mechanisms.
Anything else you would like to share?
 We absolutely must recognize that many colleagues in the profession as a whole have faced different threats during this time period, outside of the uncertainties of the pandemic — things like anti-vaccine and anti-mask protestors; so-called "First Amendment auditors;" and a variety of attempts at book banning and censorship.  We are at this very moment facing a significant amount of friction over our Drag Queen Story Hours – during Pride month – even though generally, we are lucky in Massachusetts to have not seen as much as our colleagues in more conservative areas of the country.  That said, as a profession, it's paramount that we support our colleagues who are on the front lines of the threats to our public libraries' position as key to public democracy.
Interview with David Leonard, President, Boston Public Library
Interviewed by Michelle Eberle, Consultant, Massachusetts Library System