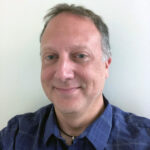 Gearing up to redesign your website?  Wondering where to start? Looking for advice about the process?  This post is part of a series featuring a variety of approaches that Massachusetts public libraries have used to redesign their websites.  We'll learn about the Cary Memorial Library's website redesign from Kevin Grocki, the library's Webmaster.
By Kevin Grocki, Webmaster, Cary Memorial Library
When I was hired as the webmaster for Cary Library back in 2015, one of the first things they asked was how I would redesign the website. A daunting question for a potential new hire; however, I quickly noted how Cary Library had a consistency of design and a continuity of message that was mirrored in their building as well as on their website. I knew I wanted to keep this at the forefront of the redesign, and so we embarked on a collaborative and iterative process. And, like most successful redesign projects, we started with a lot of prep work.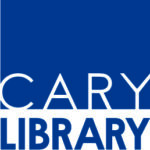 Cary Library has an amazing designer, Mandy McClaine, on staff and we started the website redesign process by first coming up with an updated logo, branding, and color scheme. Koren Stembridge, the library director, and Emily Smith, the former deputy director, knew they wanted something strong and bold to reflect the library being a cornerstone of the Lexington Community for over 150 years. The resulting logo led to a revised branding and ultimately to a committee writing the Cary Library Style and Standards Guide, which proved to be a valuable tool for the website vendor as well as a touchstone that constantly evolved and guided us through the website redesign process.
Instead of waiting to reveal our new logo and branding on a brand new website, we decided to make these visual changes to our current website a full year before our actual website redesign. This was a conscious effort to both refresh our 7-year-old website and eventually make the user experience transitioning to the new website more familiar.
Next, we compiled any feedback on our old site from both staff and public perspectives and set to writing our RFQ (Request for Quote). We knew that one of the biggest factors of our web presence is our library programs and we needed a calendaring program robust enough to handle it. So, Emily and I wrote our RFQ for the entire website redesign as well as an Alternative Component (calendaring) so that we could have separate companies bid on each section or both, if applicable.
The entire process, from writing the RFQ to launching the new website, took about a year to complete. We spent several months revising our RFQ over the summer of 2020, and then went to bid around September of that year. Once the selection process had taken place, we finalized contracts at the end of the year and by the time 2021 started, we were on our way to getting a new website!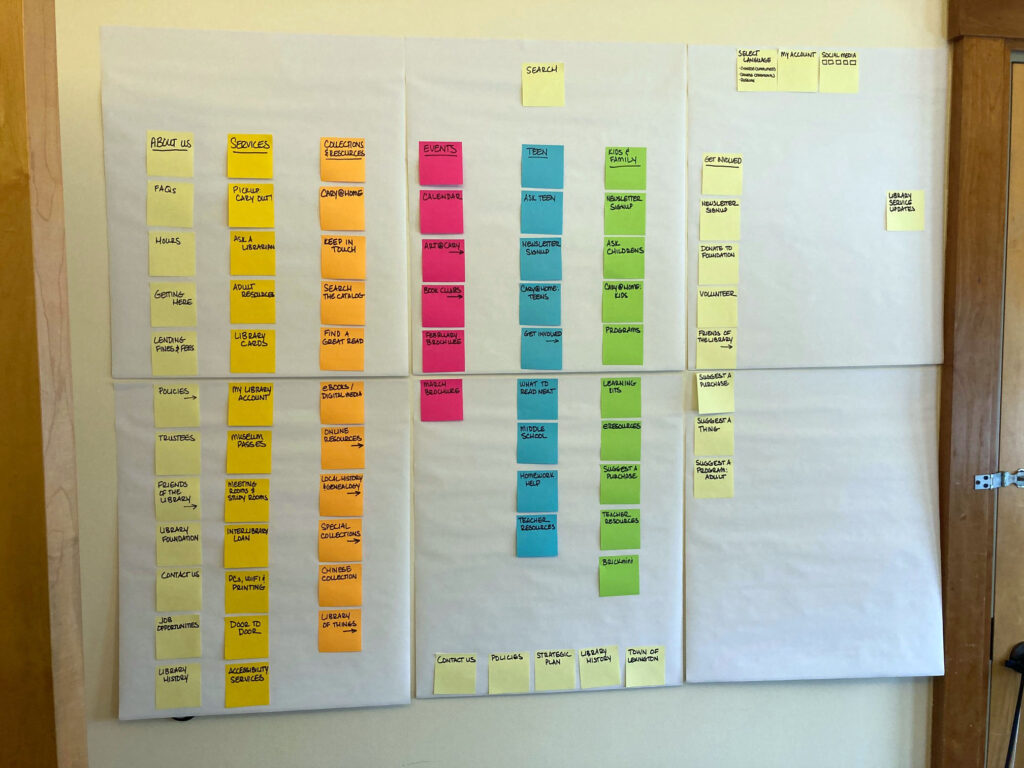 Since we had a style guide, many decisions were already made regarding what we wanted for the overall look and feel of the website and the vendors used this extensively. We also supplied the vendor for our website with simple wireframes so could plan ahead on the layout. While the design was being finalized, the library staff and I set to work on nailing down the top level navigation. We accomplished this by "card sorting," a process (we used colorful Post-Its) where we identified certain sections of the website and then put subpages into those categories.
Our goals for our new website were that it needed to be mobile-first, responsive, and accessibility had to be a top priority. Even though we had a very extensive and detailed RFQ, we were shocked at how many questions from potential companies came in, to which we had to supply many addendums to our RFQ. After going through a rigorous criteria process, we ultimately selected EBSCO Stacks for our overall website redesign and Assabet Interactive for our calendaring/museum pass needs and we are still quite happy with both companies.
Content migration happened in the early spring 2021 with a launch date mid-summer. However, not all things went according to plan and we found ourselves with the calendaring portion of our website ready to go, but we had some internal schedule conflicts that precluded us launching our full website until early September. Both companies worked with us to make sure this iterative process went smoothly.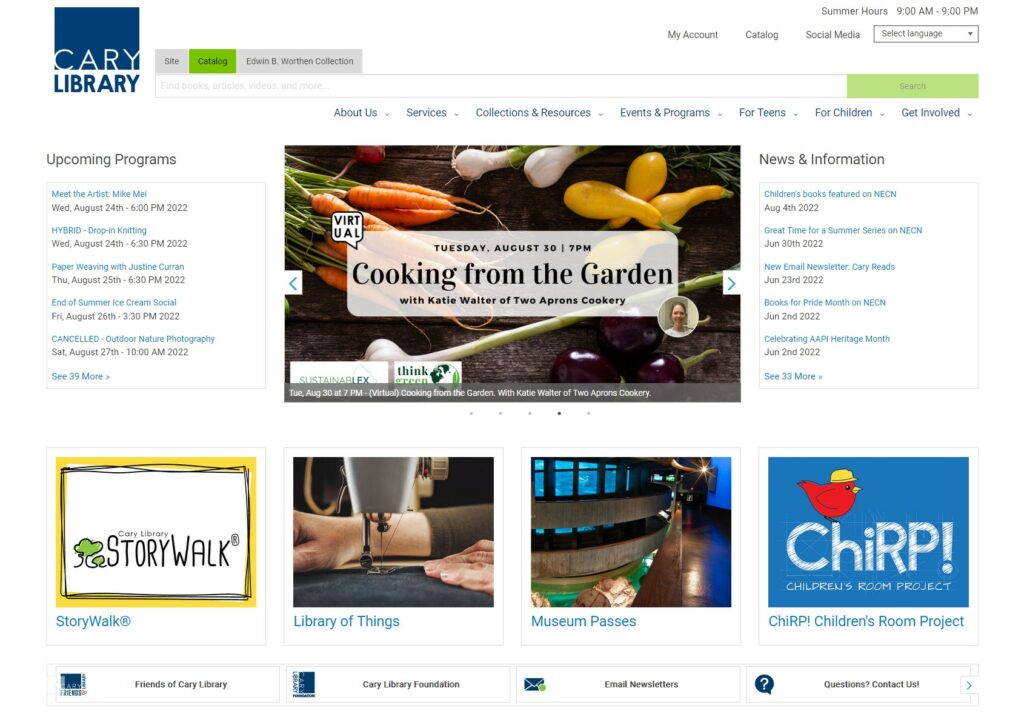 One of the tougher parts about website redesign is the migration process. Keeping track of both changes on the old site and new site proved challenging, but we managed this with a shared Google spreadsheet available to all staff to keep track of any edits, additions, or problems. This was essential in keeping track of all the moving parts that were being updated on the old website so that it was ultimately also reflected on the new website. This is also where the process involved the most staff – with many pairs of eyes scrutinizing the new website to make sure everything was in place.
Another crucial part was communication. Emily and I had weekly meetings with our EBSCO Implementation Project Manager that facilitated open communication between us and the vendor throughout the process, from the initial design concepts, throughout the content migration, and ultimately right up until a few weeks after launch. Also, it was imperative to have open communication with staff as to their needs and expectations of the new site as they are also using this as a main tool working with the public.
Overall, I was quite lucky to have such an engaged, enthusiastic, and supportive team of coworkers during this project who unhesitatingly stepped in and helped with anything and everything. If I could offer a few bits of advice to make a successful website redesign project, it would be to start out developing a collaborative style guide, keep your users in the forefront of the experience design, and ask lots of questions. Oh, and when things go awry as they sometimes will, maintaining a sense of humor will go a long way.
By Kevin Grocki, Webmaster, Cary Memorial Library