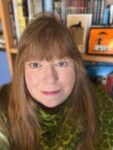 Gearing up to redesign your website?  Wondering where to start? Looking for advice  about the process?  This interview is part of a series featuring a variety of approaches that Massachusetts public libraries have used to redesign their websites.  In this interview, we'll learn about the Fall River Public Library's website redesign from Kate Kulpa, the Assistant Library Administrator of the Fall River Public Library.
What process did you use for your library's website redesign?
Kate Kulpa: Our previous web site was created with Dreamweaver in around 2008, and the version we used was desktop-based rather than web-based, so we'd been planning an update for a while, but the need for a web site that could be updated from anywhere became really obvious during the pandemic, when the library was closed and we couldn't post anything. So when staff returned to the library, creating a more modern, flexible web site became a priority.
I reached out to other libraries through the MBLC listserv and asked what program they used for their web site and what they liked/disliked about it. Then, working with our reference department head, we compiled a list of library web sites we liked and had more in-depth conversations with the librarians responsible for those sites. We considered WordPress and Drupal and some of the free programs like Wix and Weebly, but ultimately we decided to outsource to Piper Webs, a web design company that specializes in libraries. We liked that they take care of the domain name, hosting, and security, and that they have fast and responsive customer service. Our web site was hacked in 2018, and it took several days to get it back, so I like knowing that Piper Webs is monitoring our security and that I can reach them by email any time, even after hours, and get a quick response.
The final step before redesign was a patron survey. I created a Google form for this and distributed it through our existing web site, on Facebook, and in person within the library. I asked patrons why and how they used our site, what information was most important to them, and which features they were likely to use. We found that more than half our patrons access the web site primarily from their phone, so having easily accessible mobile design was important for us. About 60% of the users access the web site primarily for books and resources; about 25% use it to find out about library events, and the remainder use it for basic information, such as hours.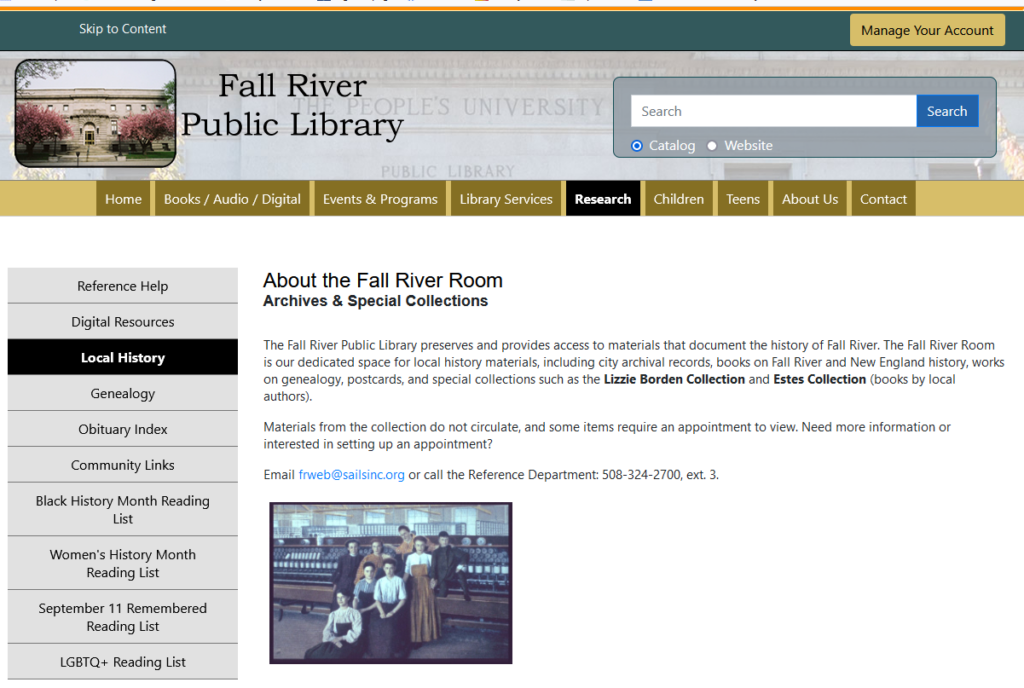 After meeting with Piper Webs online, we selected them, gave them some web sites we liked, and talked to them about the features that were important to us. We went through the old site, selecting and editing the content we wanted to keep. They created a design and menu structure we liked, and we spent some time fine-tuning it and learning the new program, which is really easy. The time from initial research to the new site premiering was about four months, from May to September. The reference librarian I'd been working with left, but I've been able to manage the site on my own.
How did you draft the organization of content on your new site? 
Kate Kulpa: Our initial site didn't use drop-down menus (I know some users dislike them), but that became too cumbersome. Piper Webs offers several grid designs. The framework we chose uses simple drop-down menus to save space, but we still have all the essential information users need on the landing page.
How did the principles of user experience influence your redesign?
Kate: Making the user experience easy and intuitive was my number one goal. As someone who uses library web sites myself for research, I knew that I wanted to be able to get to, say, databases or local history info without having to navigate through countless pages and links. In addition to our patron survey, we asked some "power users" for their input and tested our site on a desktop, laptop, iPad, and both Apple and Android phones.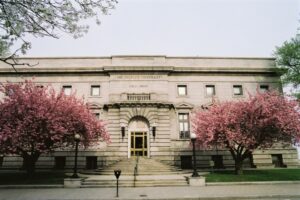 How did you approach branding and aesthetics?
We kept an image of the library with cherry trees in bloom that we used on our last web site, for continuity. That photo of the library, a historic building built in 1899, serves as our logo, and there's also a semi-transparent image behind it showing a carving above the library entrance, "The People's University." Our colors are hunter green and gold, and we asked Piper Webs to incorporate those colors into the site design, but they are accent colors. The main background is white, keeping the overall look clean and simple.
How will you update the site and make sure it continues to be accessible and user-friendly?
The program we are using makes it easy to update information and add new features, including expanding the current menus, instantly. If we decided to do a complete overhaul, we would probably do another user survey—possibly even create a volunteer design/testing committee of both staff and patrons.
What advice would you give to a library getting ready for a website redesign?
Go to the source. Talk to staff who use your site in-house to search for information (and if they're not using your site, find out why), and survey patrons who use the site, as well as those who don't. Look at other library sites, and reach out to other libraries through listservs and network groups. I've always found that librarians are a friendly, helpful bunch and will go out of their way to share information and advice!
Any final thoughts?
I really appreciate the ease of having a dedicated web design company, but I know that may not be in the budget for all libraries, so I would say make simplicity and ease of use your goal. As librarians, we all wear so many hats and have so much to do each day—programs, patron service, collection management—and you don't want to spend hours fiddling with a balky slide show or trying to figure out bad code. A simple web site you can quickly adjust and maintain is better than the more aesthetically advanced one you have to struggle with.
Interview with Kate Kulpa, Assistant Library Administrator, Fall River Public Library
Interviewed by Michelle Eberle, Consultant, Massachusetts Library System