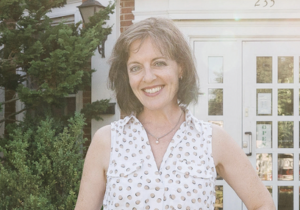 Gearing up to redesign your website?  Wondering where to start? Looking for advice  about the process?  This interview is part of a series featuring a variety of approaches that Massachusetts public libraries have used to redesign their websites.  In this interview, we'll learn about the Abbot Public Library's website redesign from Kimberly Grad, the Director of the Abbot Public Library in Marblehead.
What process did you use for your library's website redesign? 
Kimberly Grad: The process of applying for grant funding to cover the cost of the redesign included finding potential vendors to determine approximate cost.  I worked with a marketing consultant and discovered Hyphenate, which supports business and non-profit organizations in building brands and making meaningful connections with their audiences through the creation of strategic websites, print and digital designs and marketing campaigns.  It took about one year from the start of the grant application to the launch of the website.  The actual website creation took only about four months.  However, in order to launch quickly (by July 2022), we recognized that the site is a work in progress as we add more information, streamline best practices for editing, experiment with how our events registration process works, and add more images to our pages.
How did you draft the organization of content on your new site?  
Kimberly: We used Octopus.do, a visual site map builder that helps to organize page content and structure.  We also organized content in a shared Google Drive.
How did the principles of user experience influence your design?
One of our primary goals was to organize information about the library so that it is easy to find and easy to use.  Our previous site had gotten clogged with multiple cross references and outdated material.
How did you approach branding and aesthetics?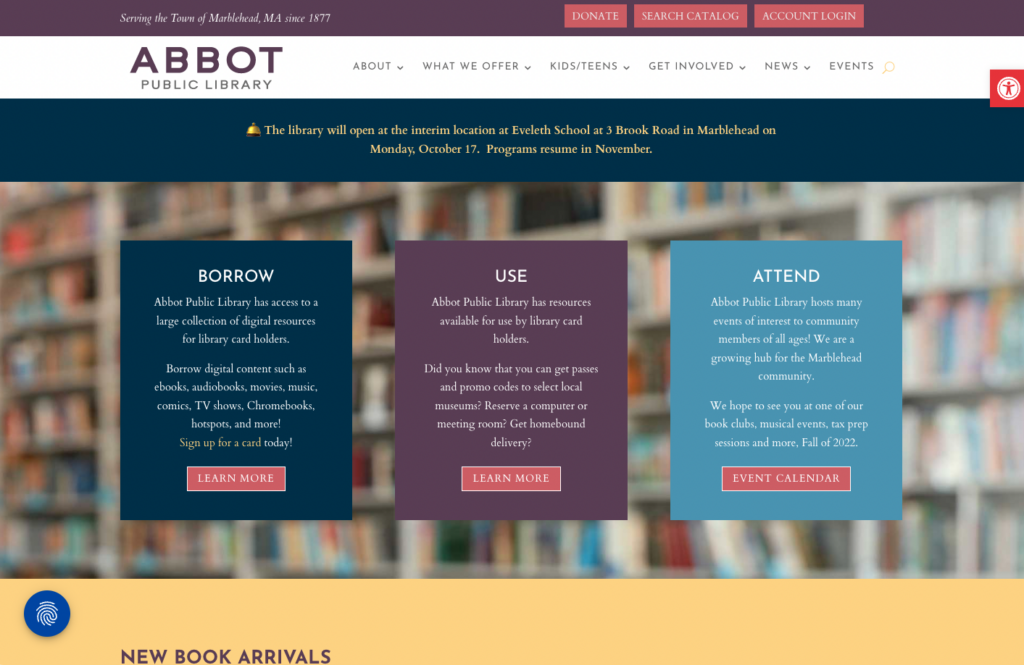 The redesign included establishing a new logo, using a clean, modern font. The colors of our website were inspired by the historic paint colors of the houses located in the vicinity of Abbot Hall in Marblehead, the original location of the library. To our website and select signage, we have added the tagline: "Serving the Town of Marblehead since 1877" to our logo to provide context.   The new color scheme will be also be used in wayfinding signage at our interim space and may also be used in the décor of our renovated building. Renovation construction starts in December 2022 and should be complete by Spring 2024.
How will you update the site and make sure it continues to be accessible and user-friendly?
We currently have two staff members assigned to edit the material on the website. We are finding that blog posts are a good way to connect with social media and it's a great way to share and organize current and useful in social media.
What advice would you give to a library getting ready for a website redesign?
Consider the goals of how you want to provide information for your community. How can the website act as a digital branch?
Interview with Kimberly Grad, Director, Abbot Public Library, Marblehead
Interviewed by Michelle Eberle, Consultant, Massachusetts Library System