Miki Wolfe was a participant in our 2016 SET Cohort. Since the conclusion of SET, Miki has been an active member of the MLS Continuing Education/Advisory Services Committee. In 2018 she joined the Project SET Alumni Task Force and will play an active role in the planning and implementation of our 2018 Cohort. The 2018 application is now open. For additional information about Project SET visit our LibGuide!
What were your goals for Project SET? How did these develop throughout the Project? Did you meet them?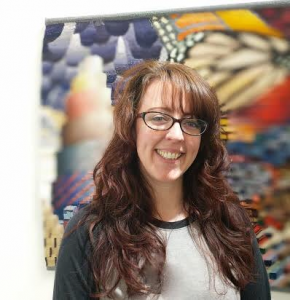 At the outset, my goals for Project SET were twofold: become a better presenter, and connect professionally with librarians across the state of Massachusetts. I was coming off a couple of lack-luster presentations that had really shaken my confidence as a public speaker, so signing up for a workshop series culminating in a presentation at a statewide meeting of library professionals was intimidating. Ultimately, it worked out quite well. Project SET boosted my confidence in my abilities as a presenter, and enhanced my skills as a library leader.
Back in grad school, I earned a degree in social media and libraries, and I'm always looking for new professional applications for that research. Through Project SET, I was able to present on how libraries can use memes to appropriately and effectively connect with patrons on social media. Developing a talk on memes and regaining the confidence to present before a large audience helped me to meet my professional goals. Rick-rolling the audience at the end of my talk was just a bonus.
Identify one goal you have for your career, your library, and for the MA library community?
It's always fun when I'm able to merge a larger project with the day-to-day business of my library. Efficiency is always a goal of mine, but rarely achieved. One of my current goals will, if achieved, neatly overlap with my career, my library, and the MA library community as a whole:
I would like to organize a multi-library Local Author Festival. We have a lot of local talent in and around Sharon, and these accomplished authors have some excellent information to pass along to aspiring writers, not just about their individual publications, but also about their craft and the business of writing as a whole. I'm hoping that marketing a "Literary Festival and Writer Workshop" involving multiple libraries would capture a larger audience than our Local Author Roundtables currently achieve. This is still an idea in the very early planning stages, but I believe with the skills and confidence I developed through Project SET, I am ready to pursue it. (Also, if you work in a library near Sharon, and this sounds interesting, please let's talk!)
The MA library community is open to sharing resources and ideas, and I'm thrilled to be a part of this. And, thanks to Project SET, I've met some wonderful colleagues and I now have the confidence to raise my voice and join in conversations where before I would only listen.
Project SET is a professional learning cohort that supports the development of individual career goals and the exploration of other aspects of the library community. Every session provides the chance for participants to build knowledge, communication skills, connections, awareness, and confidence as an information professional.