Introducing Liz Cashman! She is the Head of Reference at Westfield Athenaeum. Recently we asked Liz to share her Project SET experiences.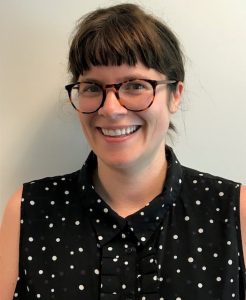 How did you become aware of Project SET, and what elements drew you to the program?
My library's director forwarded our entire staff the original email from MLS calling for applications, and wondered if anyone was interested. The elements that initially drew me to the program were 1. getting out of my library/community bubble and learning new skills from other librarians across the state, 2. long-term professional development (I like that it is in-depth), and 3. working on public speaking.
What are your first impressions of the program and its intended outcomes?
I like the program a lot and it is clear the folks running it put in a lot of effort into making each session valuable. So far – I have learned a ton about library trends (as advertised) which is amazing because it's always something I want to deep-dive into, but rarely have the time for. Also, our second session on public speaking definitely met my expectations and I'm sure will prove to be valuable in the future (hopefully at the MLS annual meeting).
Project SET begins each year with a study of trends currently impacting libraries. Of the trends you've learned about which one do you feel will have the biggest impact on your library and why?
I feel like Collective Impact will have the most impact on my library – due to limited resources and high need, it is in our community's best interest that local organizations (including the library) make a concerted effort to work together and streamline services. This is not a new concept, but what appeals to me about the collective impact model vs. traditional community partnerships is that it is more structured, with one organization leading the charge.
Want to know more about Project SET? Visit our LibGuide!