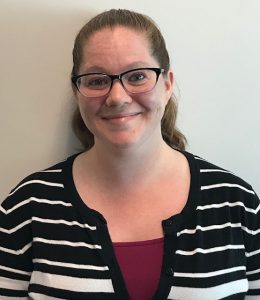 Introducing Liz Teoli ! She is the Assistant Librarian at Northern Essex Community College – Bentley Library. Recently we asked Liz to share her Project SET experiences.
How did you become aware of Project SET, and what elements drew you to the program?
I received a flyer at work that was addressed to a retired staff member who used to have my office. I was quite intrigued by the flyer, and decided to take the plunge. I was most excited to join a cohort of librarians from a wide variety of libraries around the state.
What are your first impressions of the program and its intended outcomes?
Some members of the group seem to have a firm grasp on the topic(s) that they wish to explore, which is great. Some (myself included) need more guidance, but having a mentor within the program is a wonderful way to help us figure it all out.
Project SET begins each year with a study of trends currently impacting libraries. Of the trends you've learned about which one do you feel will have the biggest impact on your library and why?
Of the trends we've discussed/researched I feel that the one to have the greatest impact upon my library is resilience. As with many Colleges around the country we're dealing with low enrollment, layoffs, union contract delays, and loss of space (other departments wanting to move into our offices/study areas).
The fall semester has the possibility of being quite chaotic on campus as many programs are being restructured, relocated, and/or refreshed. Students, faculty, and staff can rest easy knowing that no matter what changes happen around them, the libraries are still here for them. We will always be here for the NECC community in whatever capacity necessary. Need a place to cool off? Come to the library. Need a book? Come to the library. Need to print? Come to the library. Need a friendly face? Come to the library. We will continue to shine through these transitional times and will grow to be an even stronger set of libraries because of it all.
Want to know more about Project SET? Visit our LibGuide!