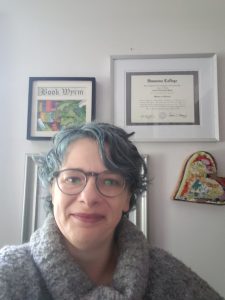 There's no such thing as a typical work day, and I love that! Everyday brings something different. Whether I'm helping a library with space planning, collection management, marketing, reference, staff training, or time management, each library and community is unique and so is my experience working with them. I just wrapped up a Collection Analysis (one of my favorite consult topics!) with an Academic library. Usually public libraries ask for an analysis, so working on an Academic collection threw me a few curve balls, and that was fun to think around.
Outside the office you'll find Anna….
Enjoying my dogs and cats. We have three of each. I unwind with my pets because animals are awesome.
catch Anna watching…
Homicide Hunter. I love my murder shows, and Detective Joe Kenda is the Robert Stack I didn't know I needed. #364.1523
Interested in learning more or want to reach out to Anna? Contact Anna at anna@masslibsystem.org
Get to know our team! Check out more of our Meet the MLS Team profiles.