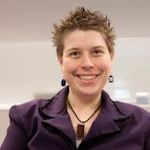 As a member of the Resource Sharing team, most of my workday is sifting through listings on OCLC to find lenders to fill interlibrary loan requests. The most common issue is a lender owning something, but it's in use. I help the members by tracking down online catalogs and providing a list the librarian can watch (or share with the patron to watch) until someone finally gets popular material back. When not filling ILL requests, my primary focus is in keeping our contact list accurate and hosting ILL Community Chat meetings over Zoom.
Outside of the office Laura….
I just finished reading "Planet COVID-19 Field Journal" by C.M. Gendron. I love how solidly it conveys the same surreal feeling I've had since early 2020. I also liked Gendron's ability to express both wry humor and a deep sense of unease in his portrayal of unreal reality.
Laura's snack of the moment is…
Popped corn with flax oil and nooch
Questions about resources sharing? Contact Laura at laura@masslibsystem.org 
Get to know our team! Check out more of our Meet the MLS Team profiles.