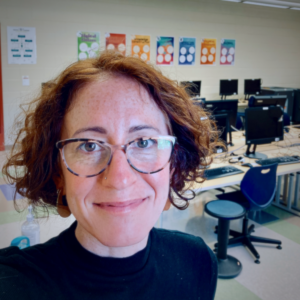 We are excited to announce that Hillary Washburn has joined the Consulting & Training Services team at MLS as the new Instructional Designer & LMS Administrator. In this role, Hillary will be leading our online training and eLearning efforts.
Hillary enjoys facilitating learning through the innovative use of technology that is people-centered. She holds an M.Ed. from Plymouth State University with certifications in Library Media and Digital Learning, and is currently pursuing an Ed.D. at Plymouth State.
In her most recent role as Technology Integration Specialist for Keene Middle School, she supported staff, students and families in effective use of technology, and taught computer science. Hillary has also been a Librarian I at Keene Public Library, where she specialized in Teen and Maker Space programming. Before education and libraries, Hillary served on a number of research projects in maternal health care.
When not working, Hillary enjoys cooking, playing with family outdoors, running and listening to podcasts.
Hillary can be reached at: hillary@masslibsystem.org For more information about the Training & Consulting Services team, please visit our resource guide at: https://guides.masslibsystem.org/cats