Bill Mongelli was a participant in our 2016 SET Cohort. Since completing SET Bill has continued to update his prison library blog- www.jailfire.net. Bill presented "I need a good laugh:" How to Give a Laughter-as-Therapy Program in Your Library at the 2017 NELA Conference. This winter Bill instructed a 6 week moodle course for ASCLA (Association of Specialized and Cooperative Agencies) called "The Prison Library as an Agent of Rehabilitative Change". In June he will be offering an InfoPeople webinar called "HT Give a Laughter-as-Therapy Program in Your Library".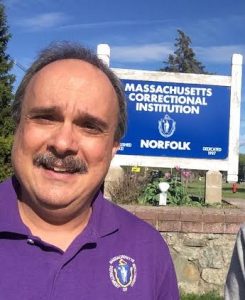 What did you learn about yourself as a participant in Project SET?
I learned how different giving a presentation is from teaching in a classroom! Unique skill sets. And I needed to learn that, because I always thought "If you can teach, you can present." Au contraire.
I also learned how useful the ADDIE instructional design worksheet is when contemplating a program or grant proposal. Project SET helped to shatter some of my notions about speaking and about program planning.
What one thing do you most want other people to know about your experience with Project SET? What are you most proud of?
I'd like everyone to know how sincerely and passionately the MLS staff care about the Massachusetts library community. They go out of their way to help you achieve your professional goals. And they are all personable people!
What I am most proud of is that I forced myself out of my comfort zone in order to pick up skills that I need to have. Project SET taught me that instead of being afraid of failing, I should rather be afraid of not trying. That is a lesson I never want to forget, and one I wished I'd learned a lot earlier in my career.
Identify one goal you have for your career, your library, and for the Massachusetts library community?
One of my goals is to publish a text on my experiences with the beneficial effects of cognitive-based programming in the lives of the incarcerated. I would then like to present my findings at the national American Correctional Association conference.
Project SET is a professional learning cohort that supports the development of individual career goals and the exploration of other aspects of the library community. Every session provides the chance for participants to build knowledge, communication skills, connections, awareness, and confidence as an information professional.
For additional information about Project SET visit our LibGuide!