Kirsten Underwood was a participant in our 2015 SET Cohort. Since completing SET Kirsten has been an active member of our library community. Kirsten has continued the work she did on her 2015 Project SET program by joining the Massachusetts Library System's Tressa Santillo in the planning and development of the "Institute for Database Engagement and Leadership" (IDEAL). Kirsten is also currently serving on the MBLC's Public Relations Advisory Committee.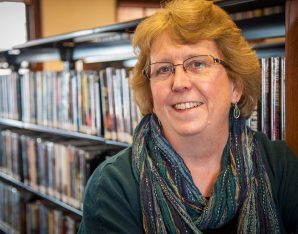 What were your goals for Project SET? How did these develop throughout the Project? Did you meet them?
As everyone in my cohort can attest, my goals seemed to morph and change at every session. I was concerned with the amount of money we spend on electronic resources and wanted to determine the best way to encourage usage among my patrons. Was it a marketing issue or was I just not providing what my community really needed? While I never determined the definite cause I enjoyed digging more deeply into the problem and was very appreciative of the wonderful conversations and discussions among my fellow SET participants….they were great.
Identify one goal you have for your career, your library, and for the Massachusetts library community?
As part of my continuing interest in the problem of usage with digital resources I would like to develop some best practices. These would allow colleagues to more accurately predict what their patron base would want and or need from electronic sources and to determine the most efficient and effective marketing tools to make these resources less intimidating and more accessible to the general audience. To that end I was excited to join with MLS to co chair the IDEAL program (Institute for Database Engagement and Leadership). We hope to gain insights through this program for specific ways to increase the visibility and acceptance of the Gale resources and through this process gather ideas to use in promoting other electronic resources to the public.
Project SET is a professional learning cohort that supports the development of individual career goals and the exploration of other aspects of the library community. Every session provides the chance for participants to build knowledge, communication skills, connections, awareness, and confidence as an information professional.
For additional information about Project SET visit our LibGuide!