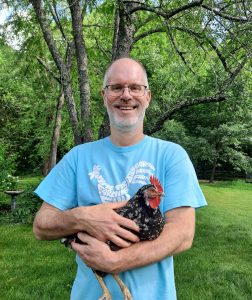 I lead the seven person Consulting & Training Services team.  Our goal is to help members accomplish their organizational objectives through our consulting and training services.  We offer learning events throughout the year, including dedicated Spring and Fall training seasons.  We also provide a variety of consulting services (e.g., collection analysis, strategic planning) to libraries.  Currently, I'm really excited about two training series that we're offering: one on Diversity, Equity, and Inclusion, and the other on Leadership Development. 
Outside the office Terry is… 
I'm currently reading Darkstalker by Tui T. Sutherland (a Wings of Fire book).  My son is really into the Wings of Fire books and we're reading all of them as a family.  I love that we get to connect as a family over books and how they spark my son's imagination.
What's Terry snacking on…
Anything out of our garden!  We just picked our first radishes of the year.  And I also love quiche made with eggs from our chickens.
Contact Terry at terry@masslibsystem.org 
Get to know our team! Check out more of our Meet the MLS Team profiles