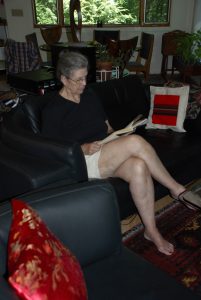 As MassCat Cataloger, I find bib records in OCLC for MassCat libraries and import them into the MassCat catalog. I also merge duplicate records, upgrade skimpy records and correct typos (some early records were hand keyed). There are several members who are as compulsive as I am and they send me information about issues they've found in the catalog that need my attention. I sometimes help members choose call numbers for their items.
Outside the office Dodie enjoys….
I read the local newspaper and do all of the puzzles: sudoku, wonderword, crossword.
I just started the second book of the Mrs. Polifax mystery series. I read mostly mysteries written by female authors and with female protagonists, though I do intersperse them with books on history. I've actually read all 4 volumes of Robert Caro's biography of LBJ.
Contact Dodie at dodie@masslibsystem.org 
Get to know our team! Check out more of our Meet the MLS Team profiles.