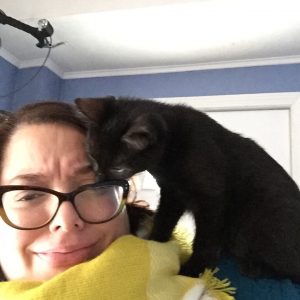 Everyday is different, which is one of the things I love about my job! Some days I am visiting libraries (virtually during COVID), sometimes teaching, sometimes advising one-on-one, and almost every day catching up on emails! I work with MLS members on youth and school services, collections, space planning, and much more.  Special projects include the Statewide Summer Library Program and the annual Teen Summit.
Outside the office April enjoys….
My husband and I just finished watching Loki on Disney +. We both enjoy movies and shows based on comics, especially the MCU. Loki had great characters and it was funny too. I also really liked the visual look of the show. Time travel makes my brain hurt so after each episode we would watch an explainer video on YouTube.
We have a subscription to Universal Yums. It's a box of snacks that comes from a different country each month. I started it during lockdown as something fun and different to try. My husband and I love traveling and missed it so this filled that void a little. Not every item is a "winner" but it has been fun and we learn a lot too!
Contact April at april@masslibsystem.org   
Get to know our team! Check out more of our Meet the MLS Team profiles.